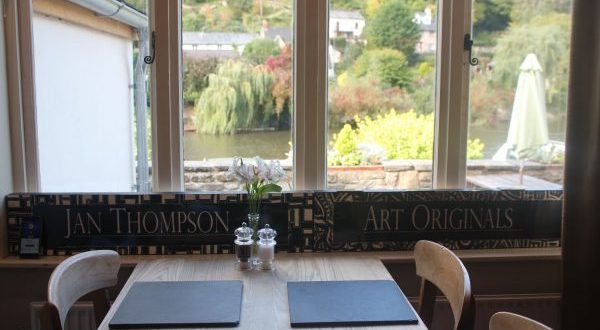 Jan's Original Wye Valley Mural – in The Saracens Head Inn
So we started with the lovely present Breakfast Room with a stunning Wye Valley River View. The aim was for me to make a warm and attractive feature wall, in my style and in keeping with the area, in this room in order to attract customers throughout the day and year.
Pete, Chris and I negotiated the change, removed the dark wooden panelling and added a bit more T&G and Farrow & Ball. More images were framed by the fab Alex at Giclee Printers, Cardiff and we started the process – which seemed like ages ago now!
I prepped original designs to fill the 4.5 x 1.5 wall with a smaller length of Wye River but the wall length and width had to be reset as North East and to run from Hereford to Chepstow. Prep took a week – with a lot of night dreaming, on my part, of shapes, sorting the difficult shapes and views and making actual sized painting drafts on loose canvas roll.
Draft ideas were thrashed out amicably and changes were sanctioned and off I went – 2 weeks ago – onsite – working amicably within a fab group of people – from the Kitchen/Bar/Cleaning Staff to the Maintenance Guy & Managers – I felt like one of the family!
The B&B visitors also guided me along the way and offered their crits and comments too! Thankfully wonderful ones, like "you can get lost within it, wonderful, amazing…."

The beginning – Layout, Layering and Marking out.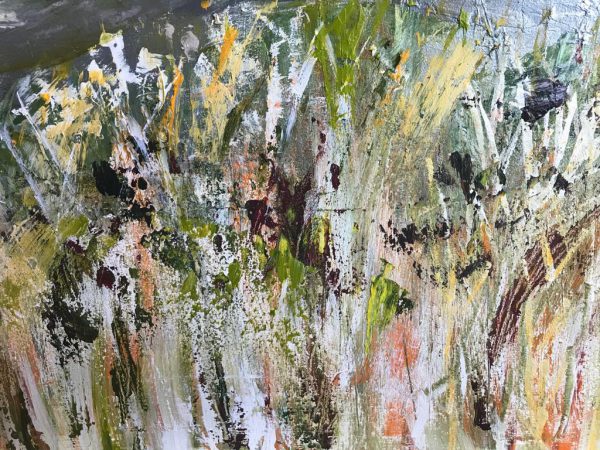 And then a textural overlay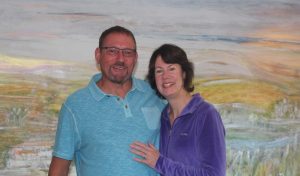 This lovely couple were staying this week and Andrew was going to undertake the Wye Valley Swim as his ongoing training for an English Channel Swim in 2020 for a great cause! Go to uk.virginmoneygiving.com/AndrewButler26 for details. They were thrilled to watch the Mural progress and it was great to have their interest. Hopefully they, as others, will be back to see the finished Painting in person next year!
---
The Finished Jan Thompson Original
"The Mystical Wye"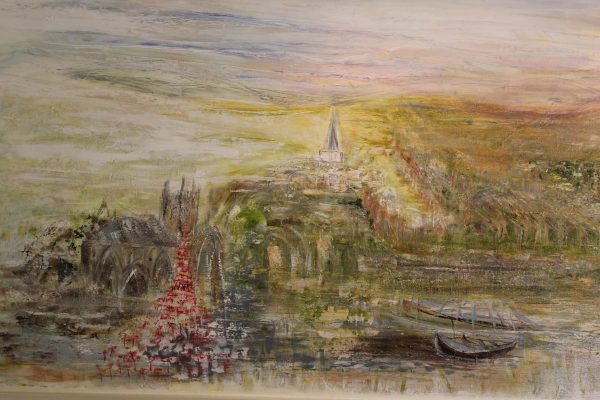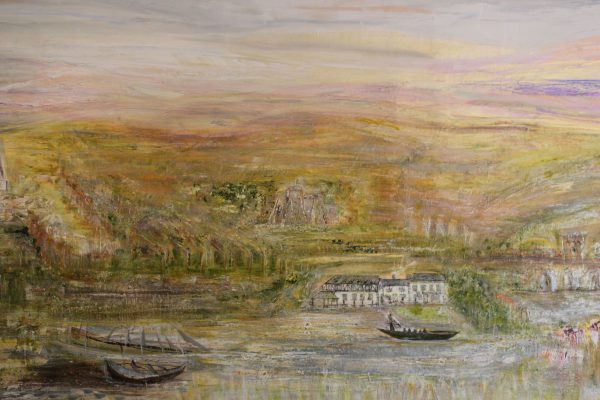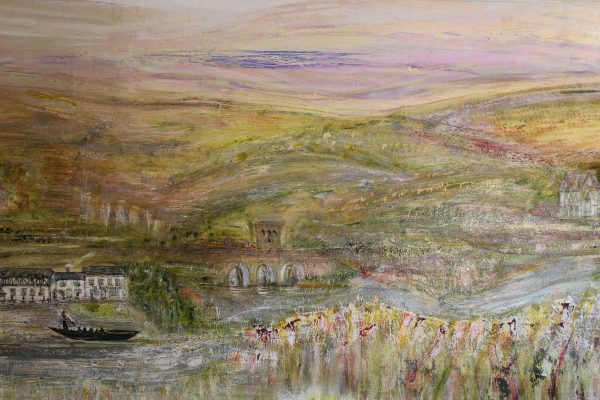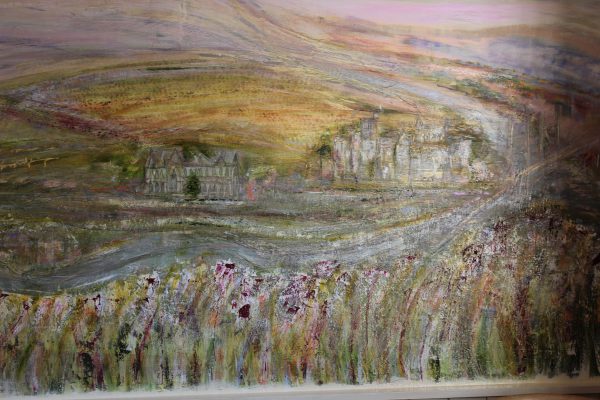 It was wonderful to receive such positive comments from staff and visitors as I moved forwards, despite each day ending with necessary compression machine to arms and legs, more meds than usual, a bath and bed! After sepsis earlier this year and my back etc it did def take it's toll.But, how I wanted to do this and be back in the Art world even if it takes a few weeks anticipated to recover.
The lovely ambience definitely help me achieve my optimum. So, the room has been transformed and more changes are underway re lighting and other paintings to finish the room off.
Hope you can visit but if not here are a few of the best photos of the Journey!
Now to recovery and paint removal!
Jan Thompson
To view more of Jan's work please visit: