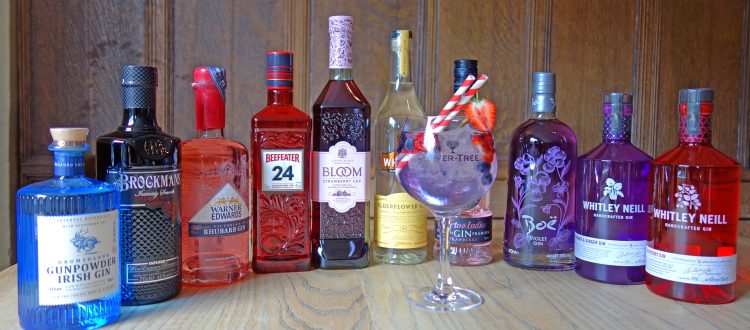 Enjoying a Gin in The Saracens Head Inn
Here at the Saracens Head, Symonds Yat, we have over 40 fantastic different gins to choose from, all served in their own elegant gin globe with a choice of Fever Tree tonics, chunky ice and fresh fruit.
From the finest oriental botanicals and gunpowder tea found in our Irish Gin to the fragrant violets that create our Boe Violet Gin, there should be something to satisfy every Gin lover right here in the heart of the Wye Valley.
Here are a few of our favourites to get your tastebuds tingling when trouping to our little corner of Herefordshire:
Brockmans Premium Gin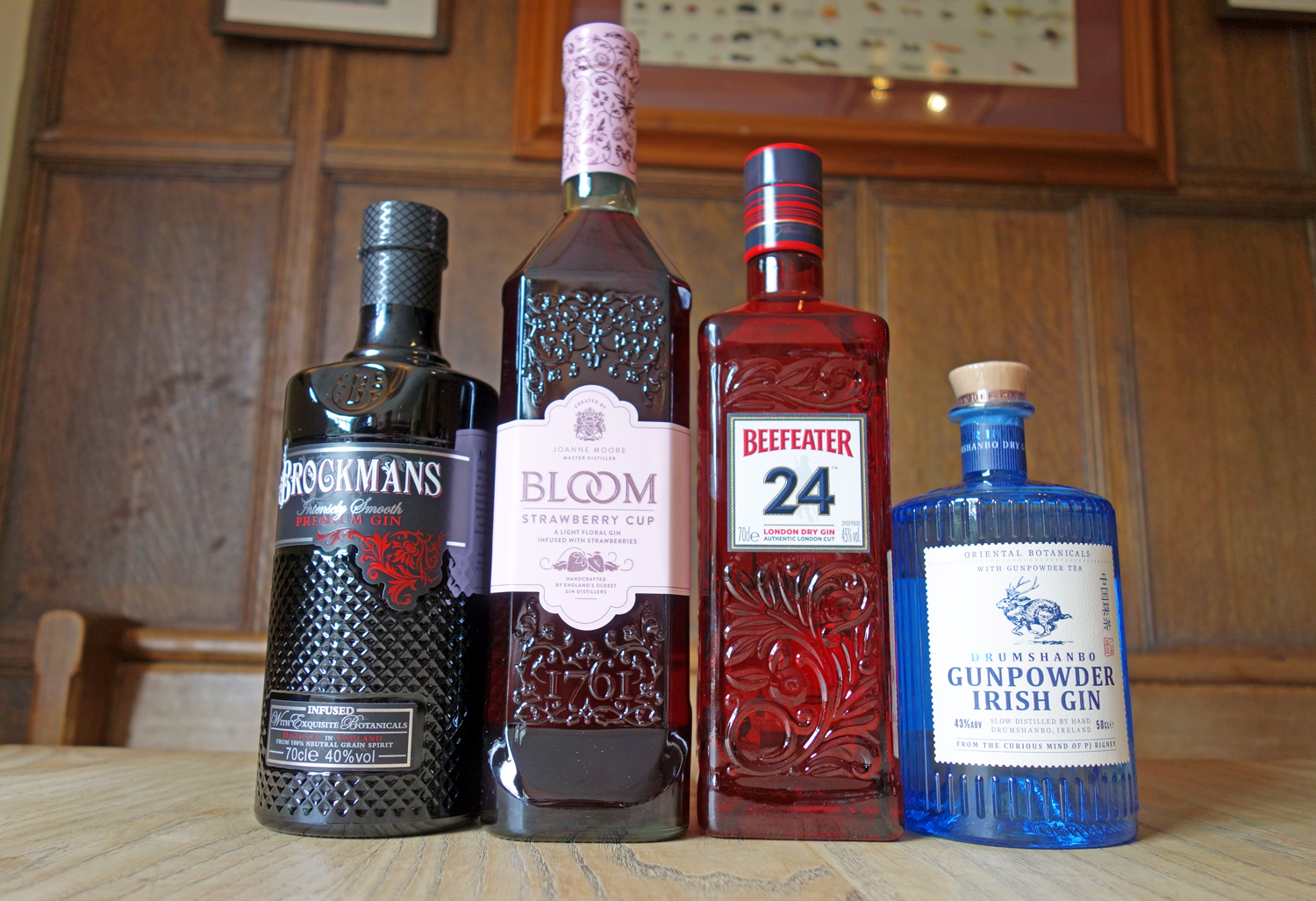 Brockmans is an independent English gin company set up by the founding partners, Neil Everitt and Bob Fowkes together with 2 other friends. With over 60 years combined experience in the drinks industry and a wealth of knowledge in gin distillation, they set out to write a new chapter in this famous English spirit's history.
The more traditional notes of gin are combined with a refreshing influence of citrus and aromatic wild berries. Bulgarian coriander plays its part, providing an aromatic, gingery orange top note. This blends perfectly with the soft and rounded harmonies of blueberries and blackberries, all of which is supported by the bottom note of Tuscan juniper berries. Dry, bittersweet Valencian orange peel elongates the deeper tones and gives an intensely smooth finish.
Thereafter, Brockmans is slowly distilled in a 100 year old traditional copper still, where they capture the heart of the gin distillation. The distinctive gin notes derived from Brockmans unique recipe deliver an exquisite intensely smooth gin, with a uniquely defining sensual taste experience.
Joanne Moore Bloom Strawberry Cup
BLOOM London Dry Gin is distilled at the G&J Distillery in the North-West of England, where they have been producing gins of outstanding quality since 1761.
During its 250-year history, only seven Master Distillers have fulfilled the role which is now carried out by Joanne Moore, one of the world's first female Master Distillers, and internationally revered expert in the gin industry.
BLOOM is an award winning premium London Dry Gin. Drawing on inspiration from nature, BLOOM's three main botanicals are chamomile, honeysuckle and pomelo. They are carefully blended to create a distinctively delicate, fresh and floral gin, with a touch of sweetness and a smooth finish.
This limited edition variation combines fresh, macerated strawberries to create a luxurious, rich liquid. To be enjoyed over ice with Fever Tree Mediterranean Tonic, and garnished with grapefruit segments and mint.
Beefeater 24 London Dry Gin
Made in the heart of London from 12 hand-selected botanicals including Japanese Sencha and Chinese Green teas, Beefeater 24 is Master Distiller, Desmond Payne's, contribution to the Beefeater legacy: a sophisticated and modern interpretation to inspire top mixologists around the world to create contemporary cocktails.
In Japan, quinine was strictly banned from the production of tonics resulting in a far sweeter mixer for the traditional G&T. To quench his thirst, Desmond chose to mix Beefeater gin with chilled green tea, as an alternative to the sweet local tonics. The resulting gin and tea combination was remarkable and inspired Desmond to spend the next 18 months trialing and experimenting with different teas and botanical blends and the result is something truly enjoyable.
Drumshanbo Gunpowder Irish Gin
In deepest rural Ireland, on the edge of a lake in Drumshanbo, Co. Leitrim, is the home of The Shed Distillery and PJ Rigney. PJ created The Shed Distillery with its medieval copper pot stills, and began a quest to fuse oriental botanicals with the local Irish ones.
As it turned out, they got on very well indeed. The result of this passionate exploration is Drumshanbo Gunpowder Irish Gin – unique, extraordinary and remarkable, all bottled and labelled by local hands at the distillery.
An Irish gin made with juniper, angelica, orris, caraway, coriander, meadowsweet, cardamom and star anise as well as vapour infused oriental lemon and lime, fresh grapefruit and gunpowder tea! It's produced at The Shed distillery, who are also making their own Irish pot still and single malt whiskeys.
Warner Edwards Rhubarb Gin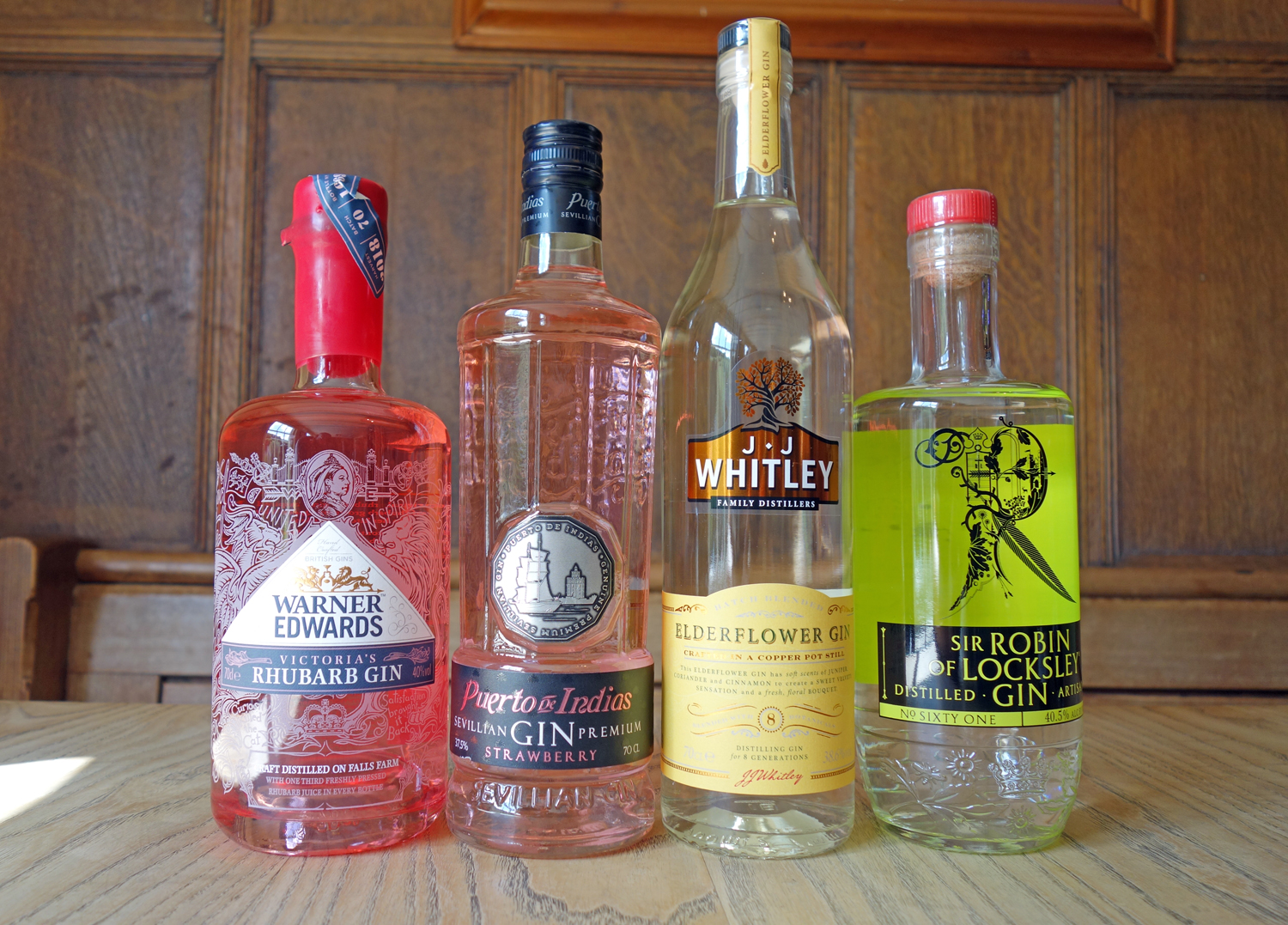 Made using a crop of rhubarb originally grown in the kitchen garden or Buckingham Palace during the reign of Queen Victoria, the rhubarb juice is extracted using a traditional fruit press and blended with Harrington Dry Gin to produce an alluring pink gin that is voluptuous on the palate with a sweet and tangy royal rhubarb explosion.
Warner Edwards, are innovative craft distillers and creators of award winning, hand-made artisan gins. Based in Northamptonshire, W.E. lovingly distil a range of small batch, fantastically smooth, award winning gins using their 200 year old farm's natural spring water, grain spirit and home-grown ingredients.
Puerto de Indias Sevillian Gin Premium Strawberry
This is a Premium Gin produced in one of the oldest distilleries of Andalusia, located in the town of Carmona in the province of Seville.
With a translucent, light pink appearance, Port of India Strawberry Premium Gin has a soft touch of liquorice and a sweet, wild flavour of strawberry and juniper.
J J Whitley Elderflower Gin
Halewood International, the UK's leading independent drinks manufacturer and distributor, launched a new craft spirits range, JJ Whitley. The JJ Whitley range is inspired by the British countryside and comprises subtle and unusual flavours, and a family tradition of distilling and high quality liquids, which offers a distinct point-of-difference to other gins and vodkas currently available.
JJ Whitley's Elderflower Gin contains a mixture of subtle flavours which can be found through rural England including real elderflower extract, as well as cinnamon, and is ideally suited as a base for summer themed cocktails. This Elderflower gin has soft scents of juniper, coriander and cinnamon to create a sweet velvety sensation and a fresh, floral bouquet.
Sir Robin of Locksley® Distilled Artisan Gin
Sir Robin, is a multi-purpose sipping gin that falls somewhere between a London Dry style and an Old Tom. Sir Robin of Locksley® Distilled Artisan Gin has incredible versatility – one of the very few (if not only) true English sipping gins, try it neat or chilled. It makes a mean G&T, and a wonderful martini (dry or dirty), as well as numerous other cocktails.
In a nod to the geographical location, it is named in honour of a favourite Yorkshire lad and local Sheffield legend, Robin Hood. Up-front juniper with more delicate aromas of elderflower bubbling through. Deliciously smooth and round on the palate – warm cassia notes soothed with dandelion. Pink grapefruit adds an underlying sweetness and lingering citrus finish. Balanced yet distinctively unique. Ideal on its own or with pink grapefruit peel for an extra citrus blast.
Boe Gin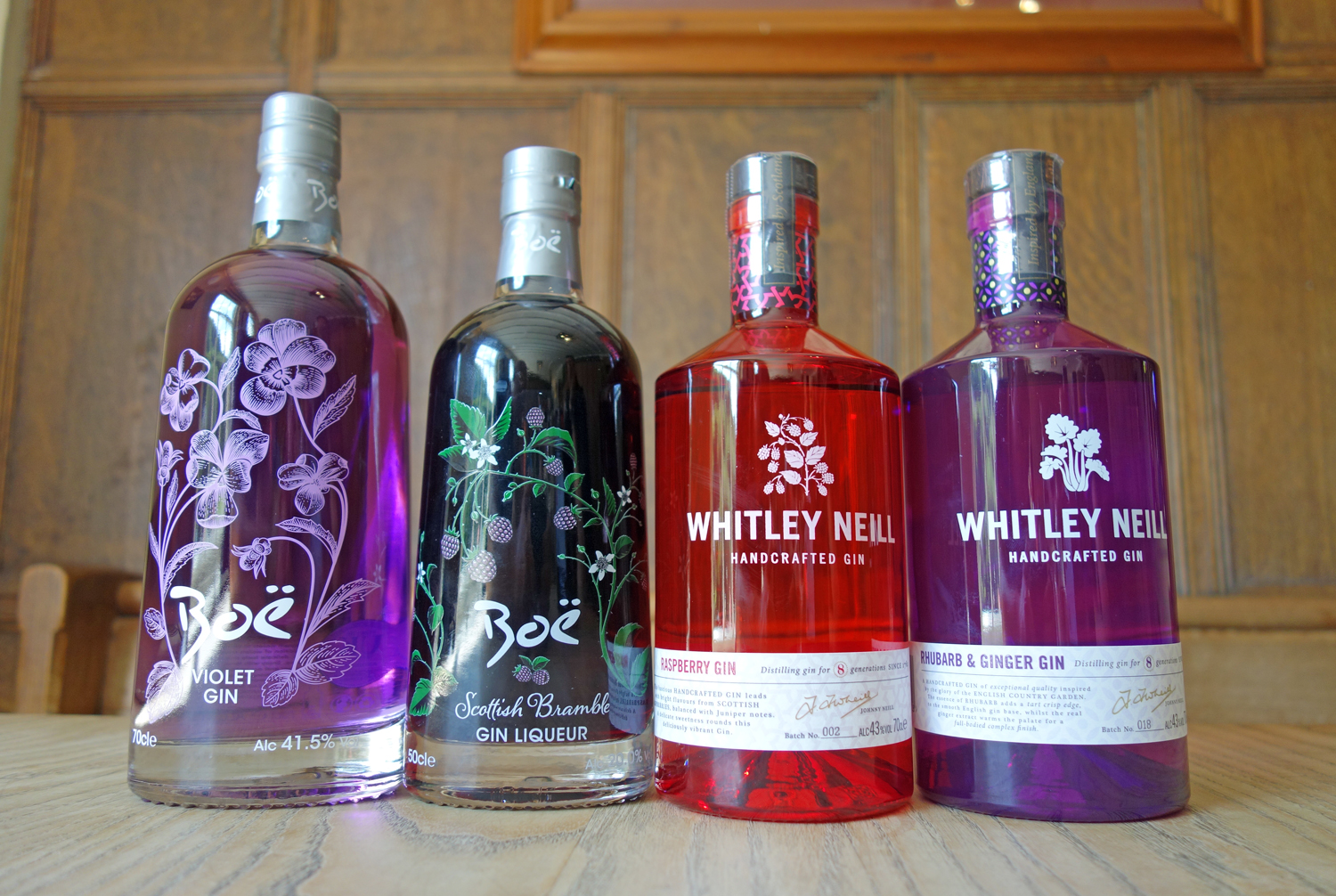 Boë Scottish Gin is lovingly created in small batches, where rare hand picked botanicals and spices are infused in the finest neutral grain spirit. Juniper berries and their flavoursome oils are at the heart of the distillation, but it takes many more elements to make Boë special. There's the aromatic Coriander and Angelica, Ginger, Orris Root and Cassia Bark – or Chinese cinnamon as it's sometimes known, one of the oldest of all spices. Orange and Lemon peel are there too delivering a hint of citrus, together with Cardamom Seeds, Liquorice, Almonds and the peppery tones of the Cubeb Berry.
The award winning Boe Scottish Gin is infused with violets to create Boe Violet Gin. The addition of violets creates a stylish gin with a light, delicate taste and beautiful colour and aroma. Boe Scottish Gin also comes infused with Scottish Brambles. The rich, fruitiness of brambles give a beautiful and distinctive taste, aroma and appearance. Enjoy with Champagne or Prosecco, in cocktails, with soda or lemonade or simply over ice.
Whitley Neil Rhubarb & Ginger Gin
Whilst most of Johnny Neill's inspiration for his award-winning Gins comes from his ancestor's intrepid exploits abroad, this Rhubarb & Ginger Gin harks from fond memories made slightly closer to home. Post-war, the Whitley Family, settled into rural England near Daresbury, cultivated their garden with thrilling flavours, serving as inspiration for both the table and indeed their experimentation with new Gins.
Johnny's latest Gin evokes childhood memories of visiting his grandparents on their farm by taking a firm Whitley family favourite in rhubarb and placed a warm twist on this with the addition of fresh ginger. The essence of rhubarb adds a tart crisp edge to a smooth English gin base whilst the ginger extract warms the palate for a full-bodied finish. The botanicals are Juniper, Orange, Lemon, Orris Bark, Coriander Seed, Angelica Root, Rhubarb Extract, Ginger Extract and Liquorice.
Whitley Neil Raspberry Gin
An initial and distinct juniper, coriander and liquorice flavour that gives way to a bright, fresh vibrant taste of Scottish raspberries. A perfectly balanced Gin with a delicate, fruity taste and a lasting citrus, raspberry flavour.
Luscious raspberries found in Scotland are balanced with juniper notes and has a delicate sweetness which rounds this deliciously Raspberry Gin. This incredibly versatile Gin can be deliciously paired with tonic as well as being the perfect component to contemporary cocktails for every season and occasion. Botanicals are Juniper, Orange, Lemon, Orris Bark, Coriander Seed, Angelica Root, Raspberry and Blackberry flavours.
Cheers!