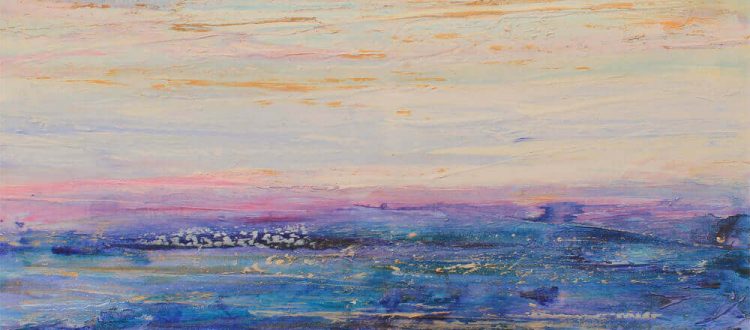 New Mural to be created in our Breakfast Room
September at The Saracens is a coming, and so is the Creation of a Mural within the Saracens Head Inn!
We have the highly noted skills of Original Art Artist Jan Thompson of Monmouth and Malaga Province.
Jan is known locally and has created many Client Commissions and Murals along side children, as a facilitator, within schools in Wales and she gained a First Class from Caerleon combining her love of Teaching with Art and Design.
This will be totally Jan led – although we have liaised with Jan – and she has produced a wide range of preparatory mapped out work in order for us to visualise the end product – as much as it possibly could be to make this creative work!! It will be based upon The River Wye location from Hereford to Chepstow.
We believe in her skills and talent and as she says "the paint will lead me" and the best outcomes can sometimes be "via pure accident!" Planned obviously in terms of form, colour and tone wise.
Size wise this is quite a project as 4.5 by 1.5m so perspective and geographical knowledge have played a part. Slow progress mapping out will begin on September 17th and Jan hopes to complete in approx 2 weeks.
Exciting times and we hope that this creates the dynamic that we have been looking for in the Dining/Breakfast Room.
It has needed something, and we were unsure what exactly!
However, Jan's skills with her eye for Design and Original Art Commissions helped us visualise what could be possible.
So, thanks Jan (www.artijan.co.uk & www.janthompsonoriginals.co.uk) we are excited about this and look forward to your work.
Pete Chris & Staff
*Please make contact via return email, or facebook, should you wish to attend a Preview in the Autumn, most likely in November, as we are looking as to whether to have an Opening Mural Evening and this would give us some idea of numbers. Many Thanks.