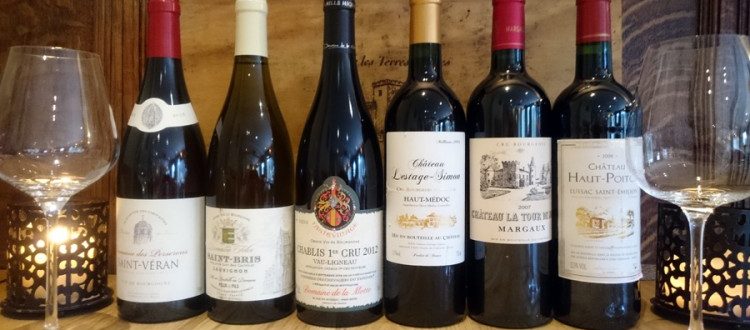 Fine Wines in the Wye Valley
If you're looking for a bottle of fine wine in Herefordshire or the Wye Valley, you might want to drop by to see what is on offer here at the Saracen's Head Inn.
We have built up a wide selection of wines from all over the world to offer our guests something extra special when looking for a bottle of red or white wine, or perhaps just the one glass over dinner, or in the bar.
Chris and Pete choose these wines with the help of our local wine suppliers (and experts) Jim and Catherine Cozens, of Vineyard Wines in Symonds Yat West.
Our wine list includes light bodied and dry white wines, aromatic and fruity white wines, rich and full white wines, classic French white wines, sparkling wine and champagne, fruity and juicy red wines, soft and rounded red wines, rich and full bodied red wines, classic French red wines and rose.
Here is an example of fine wines from the more traditional regions which are on offer by the bottle here at our Inn (unfortunately these are not available by the glass):
Red Wines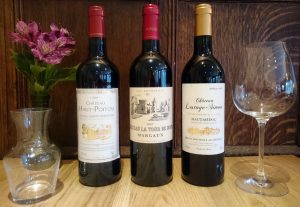 Chateau Haut Poitou 2008 Lussac St.Emilion Bordeaux, France.
Elegant, complex fruit flavours, smooth tannins, good balance
and a long finish.
Chateau La Tour De Mons 2007 Ac Margaux, Cru Bourgeois, Bordeaux.
Relatively deep colour. Refined nose mingling red fruit and delicate, slightly toasted wood. Ethereal mouthfeel with extremely refined tannins. Although the aromas are still backward, finesse and length are already apparent. A stylish Margaux.
Chateau Lestage-Simon 2005 Ac Haut Medoc, Cru Bourgeois Superieur, Bordeaux.
Chateau Lestage-Simon is based in the Haut-Medoc region of Bordeaux, on the banks of the Gironde. This has intense bramble fruit with hints of liquorice. The palate is full and weighty with blackcurrents and a gentle spicy warmth balanced by well structured tannins. Grape Varieties: Merlot 80%, Cabernet Sauvignon 20%
White Wines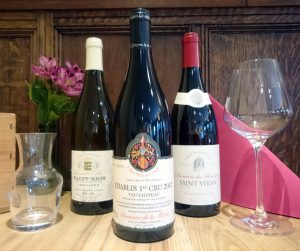 St Bris Sauvignon 2013 Domaine Felix, Saint-Bris-Le-Vineux, N. Burgundy.
A lively Sauvignon Blanc from the south of France. This wine has classic aromas of torn leaves, nettle and green peppers. It's super fresh and zingy and a very verstaile foodie wine.
Chablis, Premier Cru Vau-Ligneau 'Tastevinage' 2012.
A full and rich style of Chablis. The nose is a blend of caramel and butterscotch married with ripe mango and other tropical fruits along with apple tones. The palate shows a steely, linear, mineral style with citrus characters. The richness is nicely balanced with good acidity and freshness.
St-Veran 2012 Domaine Des Perserons, 'Les Quartier Des Girouttes' S.Burgundy.
From the cooler 2012 vintage, this has vibrant citrus fruit, complex minerality and poise. It is a truly good example of a traditional white Burgundy and a delicious food accompaniment. Girouettes are weather vains to be found on the numerous church spires typical of the Mâconnais.
Our Cheese Selection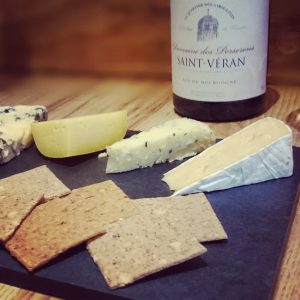 We also offer a great selection of cheeses, here are a few on offer from our cheese board:
Oven-baked Whole Camembert
Camembert is a soft, creamy, surface-ripened cow's milk cheese. It was first made in the late 18th century at Camembert, Normandy in northern France.
Tintern
Tintern is a blended mature creamy Cheddar cheese flavoured with fresh chives and shallots, made by Abergavenny Fine Foods. Typically produced in wheels of 2.25 kg, it is sold in a distinctive lime green wax covering.
Per Las
Perl Las is an organic, cows' milk cheese produced in Boncath in West Wales.  A blue Caerphilly cheese, Perl Las has a delicate, salty flavour when young, but becomes golden in colour and stronger and more lemony in taste as it matures. It has a creamy, lingering aftertaste.  Produced in wheels of 2.5 kg and trickles of 600 g, the cheese has won several awards
Pont Gar
A branded soft cheese range is the latest development in the recent revival of Welsh cheesemaking and marks a first for soft cheese development in Wales.
Teifi
Caws Teifi Cheese has been producing prize-winning raw milk cheese for over three decades. Teifi make artisanal cheese using the best local ingredients and highest quality locally sourced raw milk. When you taste their cheese you are tasting the rich clover-filled fields of Wales.